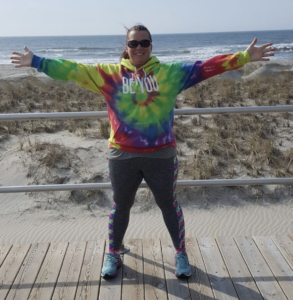 Have you struggled with your self confidence after a sudden weight gain? Well it happened to me too. My body decided to play a few tricks on me and between the hormone malfunctions and medications I found myself a little extra fluffy in a short period of time. To say that it affected my self confidence is an understatement and the irony isn't lost on me that I help women feel confident in their own skin daily, yet I let it get to me. My inner mean girl said horrible things to me, things I would NEVER say to anyone else, but I let her thrive, I listened to her and believed that she was right. Why was that ok? Why was it ok for her to talk to me that way?
She tells me "don't post that selfie, you're too fat, no one wants to see you".
As women we tend to be so hard on ourselves as it is, and many factors in our society and movies lead us to believe that if we are overweight that there is someone wrong with us. That we are no longer beautiful. Why on Earth do we listen to that nonsense?! Everything about us is just as frigging amazing as it was before, the only thing that has changed is our dress size. That shouldn't define us. If our best friend or our daughter came to us saying these terrible things about themselves we would quickly correct them and remind them of how awesome they are. Why aren't we are own cheerleader? Besides that, you know what else I have learned? You probably don't look as bad to anyone else as you do to your inner mean girl anyway. We stand in front of the mirror and stare at every little ripple, roll, and "flaw" telling ourselves that its the first thing people see when they look at you. Guess what……it's not. The people who love you have noticed your weight gain (maybe) and they still love you just the same. As far as people who don't know you, they have no idea you were ever anything than what you are right now!
So head up, shoulders straight, look yourself square in the eye and say, "Girl YOU ROCK and you never liked that mean girl anyway!"!


Interested in meeting other confident women? Come join the fun http://www.lularoejenniferwilliams.com